In the vast digital landscape, Google reviews are a crucial currency for local businesses. They can not only sway potential customers but also boost your Search Engine Optimization (SEO) rankings. Here's how it works.
Google Reviews: The Basics
Google reviews are user-generated ratings and comments that customers leave on a business's Google profile. They offer a snapshot of customer satisfaction and engagement, providing valuable feedback and social proof that can heavily influence potential customers. They are also a vital cog in the SEO machine for local businesses, as we'll delve into next.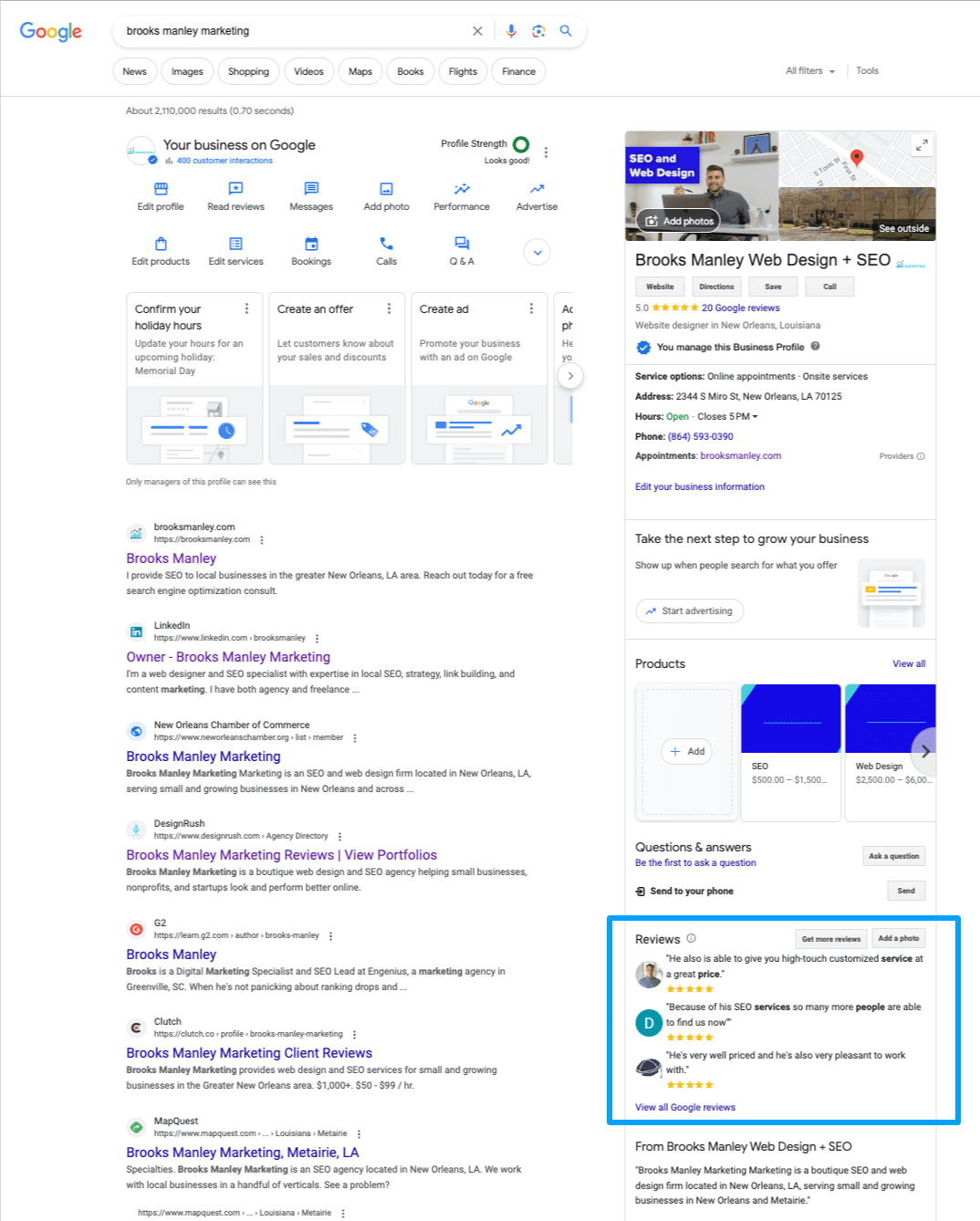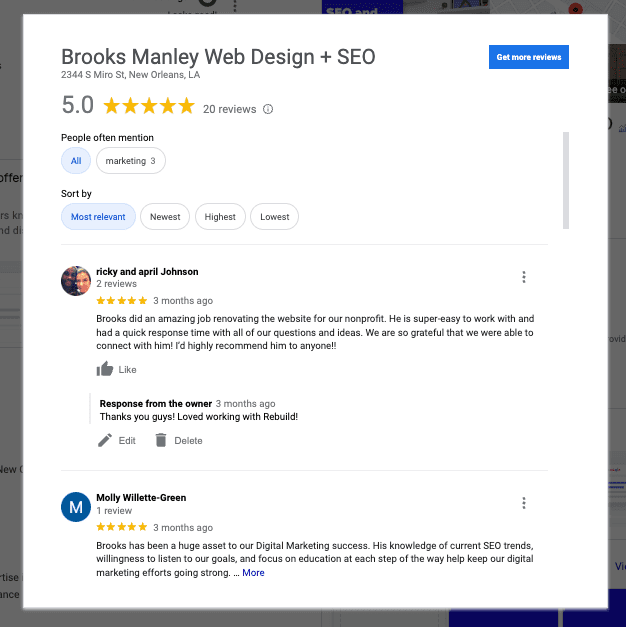 Outside of their clear SEO benefit, Google reviews are vital for any business, particularly those operating locally. They serve as a form of social proof, demonstrating the quality of your products or services through the experiences of previous customers. This can significantly influence the decision-making process for potential customers, driving both traffic and conversions.
The SEO Landscape for Local Businesses
When it comes to SEO, there's a distinct difference between ranking in the local map pack and ranking in the organic results. A local search displays a map pack at the top, featuring businesses in the vicinity. Beneath the map pack, you typically find 10 organic search results, which are more general.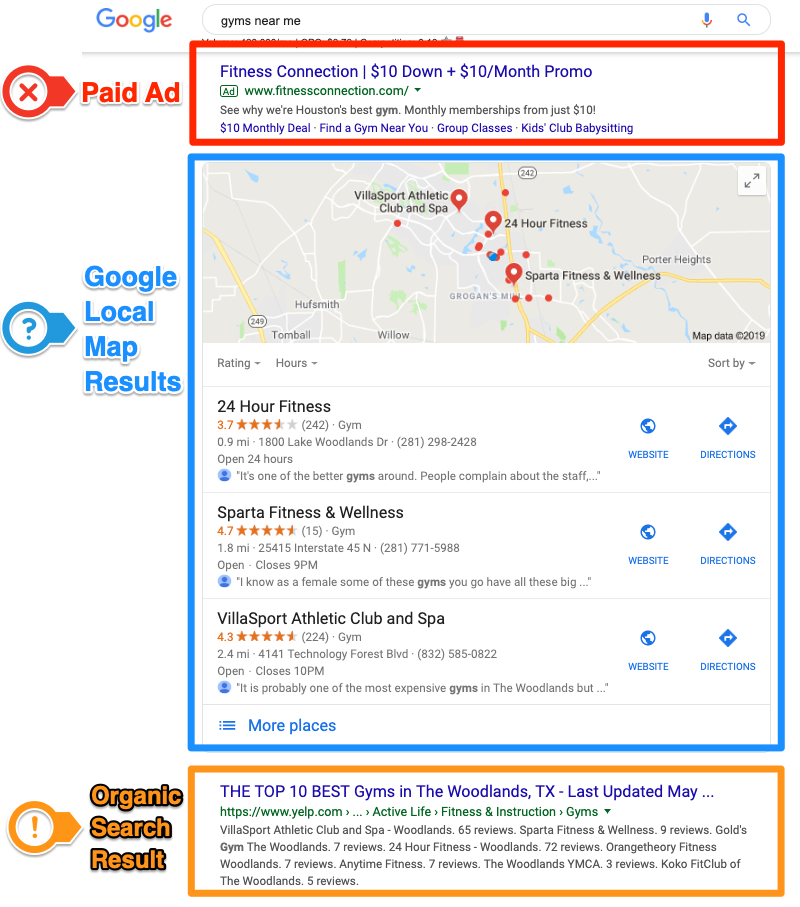 The goal for most small, local businesses should be twofold: to rank in the local map pack and appear within the top three of the organic results. Achieving this can significantly increase visibility, traffic, and conversions.
Google Reviews Help You Rank in the Local Map Pack
The impact of Google reviews on local rankings is undeniable. According to a 2023 study from Whitespark, the rating of Google reviews is the 6th most important factor, while the quantity of Google reviews is the 8th most important factor in local map pack rankings. These rankings are based on evaluations by the world's top local SEO experts.
Notably, the factors ranking 1-7, including business name, category, and physical address, tend to be fairly static for most businesses. This means that Google reviews are one of the few aspects within a business's control that can significantly influence local map pack rankings.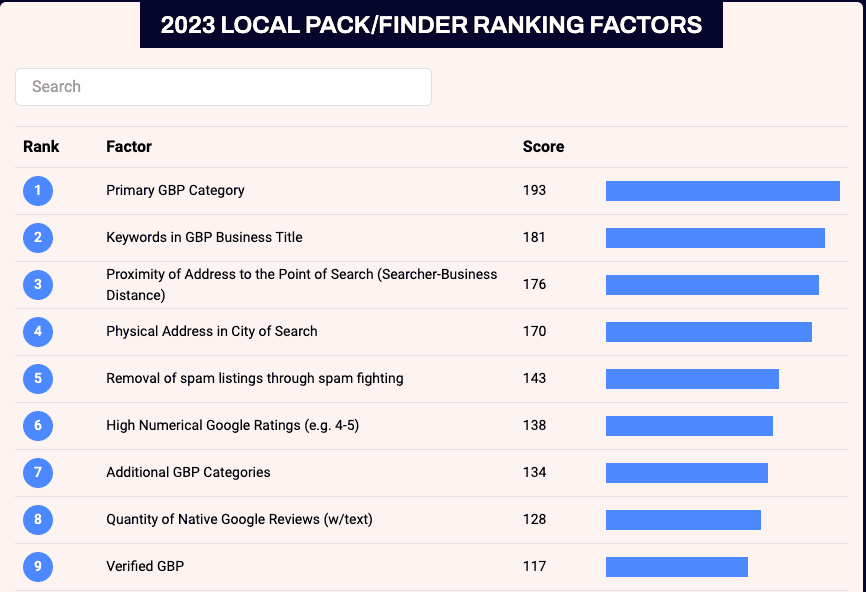 In other words, you can't control much of what influences your local map pack rankings. But you can certainly influence reviews.
Google Reviews Only Somewhat Help Organic Rankings
Remember we discussed the difference between ranking in Google's local map pack and ranking in the organic results beneath the map?
While Google reviews greatly impact local pack rankings, their influence on organic rankings is less pronounced. The same Whitespark study reports that factors such as the number of Google reviews, their rating, and their recency rank low in terms of influencing organic rankings.
Google reviews are paramount for local pack rankings, but they likely carry less weight for organic rankings.
Other SEO Factors to Consider within Google Reviews
The star rating and total number of reviews undoubtedly matter, but other factors play a role too. The recency, velocity, and sentiment of reviews also seem to influence rankings.
When it comes to recency and velocity, Google wants to know you're an active business delighting customers today – not 5 years ago. So in an ideal world, you'd be receiving positive reviews on a steady basis.
Another factor there's been a lot of debate over is review sentiment. This is Google's best guess as to whether a review was positive or negative. Many believe it's not a ranking factor, and Google representatives have doubled down in recent years.
That said, it certainly seems to many local SEOs that Google is backing off the importance of keywords in reviews (if you were an auto mechanic, having "auto mechanic" mentioned in the reviews would carry a lot of weight) in favor of other factors like sentiment.
It would make sense that a search engine in 2023 would be relying less on actual words used, and more on things like sentiment. But who knows for sure?
How to Get More Google Reviews
Whether or not Google is factoring in review sentiment, one thing is for sure: you should keep getting Google reviews.
Boosting your Google reviews requires a strategic and consistent approach. You can consider thoughtful asks over email, bulk requests to past clients, or even QR code cards directing customers to your review page. Automating an email request following the completion of projects or services can also be effective.
Whatever method you choose, make it a part of your ongoing process. Consistency is key to achieving a steady stream of new and positive reviews.
Google Reviews Help Local SEO Rankings – Keep Asking for Them
Google reviews significantly influence SEO for local businesses, particularly for local map pack rankings. While their impact on organic rankings is less, their overall role in enhancing online visibility and customer trust is invaluable. So, start focusing on collecting and leveraging Google reviews as a part of your broader SEO strategy today. The rewards will be worth the effort.